Styby is world champion again. Our Czech extended his title in the German town of St. Wendel. "And I'm incredibly happy. I had to save my season here. It's great that it worked out."
After your knee injury you clearly focused on the world championship
It was a risk. Nobody believed in that one race, but it had to happen here. I did a lot of hard hill training in Mallorca and that came in handy here.
Was the injury a blessing?
Absolutely not. No, I wouldn't want to become world champion in the same way again.
You had a strong start.
I was scared to ride around with a big group. And of course with the Belgians. You never know when they'll suddenly decide to form a united front. I didn't have much choice so I gave everything from the start.
You were alone with Sven Nys in the third lap.
I was really happy about that. I knew that Nys wouldn't look back or slow down. One lap later I wanted to test how strong he was. It was just after the pit area, on a hill where I also rode away during the Under 23 world championship here.
He had just asked you to take over.
Yeah, he motioned with his elbow. I thought, ok, I'll take over, but then fast. I quickly accelerated once, looked around, but didn't see anyone anymore. Apparently one attack was enough."
You had a 20 second lead, but didn't slow down.
No, mainly because I was afraid of getting a flat. If that happened, I'd lose my lead in one blow. I absolutely wanted to avoid that.
Niels Albert had a flat in the first lap.
Really unfortunate. I didn't know exactly want had happened, but I didn't see him near me. The announcer said he was 30 seconds back, so I knew real fast that he wouldn't come back.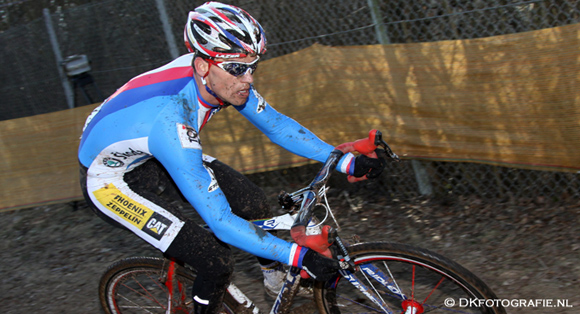 You weren't stressed at all this morning. Can you explain that?
You know, I started to get stressed because I wasn't stressed. I thought, 'Zdenek, please, it's the world championship here!' I was actually more stressed before the first race of the season in Stribro. Today I knew that I was in super condition.
And you turned that into a gold medal.
It's a really nice way to end my time with Telenet-Fidea. I started with the team when I was Under 23 world champion in St. Wendel. Now I'm leaving with a new rainbow jersey that I also won in St. Wendel. A nice farewell gift.
Can you compare this title to the one in Tabor?
That's difficult. Tabor was really nice, and at the same time, really hard as well. The race only lasted an hour, but was actually an entire season. I was really tired of all the world championship questions. I don't like to hear the words 'Tabor' and 'knee' very much.
Are you going to go for the record? Eric De Vlaeminck was champion seven times.
No (laughs). Have you had too much beer? A lot can happen in one hour. I'm not concerned with records.
Are you going to give the road a try now too?
I'm really pleased with my transfer to Quick Step. I want to feel pain on the road again and ride in the world's biggest races. I don't want to have any regrets at the end of my career and need to know that I at least gave it a try on the road.
Can we expect you at Erpe-Mere through Oostmalle?
Yes.
What are you going to do tonight? Party?
I'm going to eat with the team here in St. Wendel and then return to Belgium.
By on 30/01/2011