He is the world and Czech champion, winner of the World Cup and Superprestige, first in the UCI rankings, and second overall in the GVA Trophy. He recorded 11 wins. Styby was the king of the cyclocross season. "It was dream season," says Zdenek.
Was it a dream come true?
Probably yes. I won everything except the GVA Trophy. I didn't have the most wins this season, Albert had 16, Nys 15, but I got good results in almost all the important races. I only missed the podium in Gieten, Zolder and Oudenaarde. The worst result of the season was 7th place. It's unreal. I would like to thank all the people around me. They helped me a lot and their help gave me strength.
Has anyone won more titles than you in previous years?
Sven Nys won everything in 2005. He was the first, who managed it. But I am very satisfied with what I've achieved. It also brings big challenges for next season. It will be hard to get these results again, but if I am fit, I hope that I will be able to repeat my performances.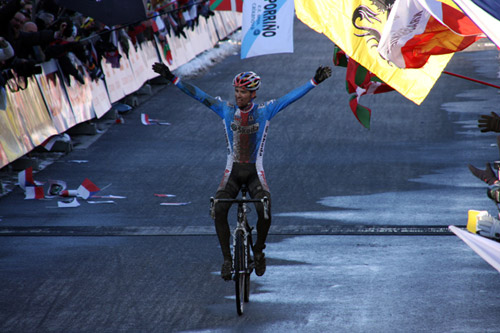 What was the best moment of the season?
The World Championship in Tabor for sure. It was a race in front of the home fans. I was under a lot of pressure from the media and other people. Everybody said that it would be my race, that I had to win. It was not always easy for me, but I won the gold medal. The Superprestige was also a great success. I won the overall classification in the last lap of the last race. The overall win in the World Cup was very important too because it took a lot of pressure off me. After that I was able to say I had a great season and everything else would just be big bonus. And it was :)-
Do you think that you've made cyclocross history?
I don't know. I'm already thinking about the summer and training. I want to have everything perfect. I know that next season will be tough. I will be under a lot more pressure. I know that from the last few races this season. There were a lot of people waiting for me by the car. Everybody wants a photo or an autograph. The title of World Champion has brought about a lot of interest in me. That's why I admire Sven Nys, because he has been under the same pressure for 10 years. But I believe that I'll be able to handle it. I am a person who can't say no to my fans. It's hard to refuse a small child who wants a photo with me.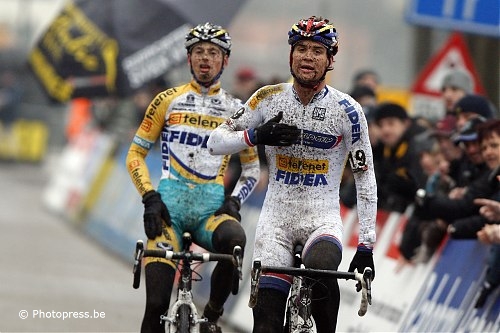 If you were Belgian you would certainly be Sportsman of the Year. Do you think that's possible in the Czech Republic too?
I don't think so because there are the Winter Olympics this year and we have a speedskater, Sablikova, who won some medals. But I got one interesting message from my fans a few days ago: to win the World Championships, Superprestige and World Cup is like winning gold at the Olympics :)-
Do you know what you'll be worth next season?
All negotiations will be done in summer. Hans van Kasteren is my manager and he knows what a world champion is worth. He is the right man to discuss this with.
What is your schedule like for the coming days?
I'll fly to Czech Republic on Monday and I'll stay there until Friday. Then I'll fly back to Belgium for a party with my fans called Restaurant Day. It's organised by my fan club. And after that I will fly to Egypt for 10 days with Ine for a holiday. On March 20th I'll go to Miss Sport in Belgium.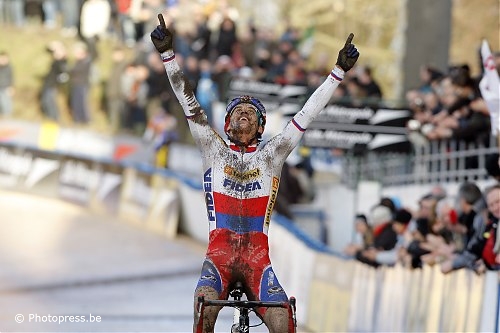 And what about the bike?
When I return from Egypt I'll start training. I'll ride the MTB again this year. I want to start more races, but cyclocross remains the priority.
By on 24/02/2010