Great! Styby won for the first time in his career World Cup. He was second in Hoogerheide today, but it was enough to beat Niels Albert in overall standings. Styby is the first Czech, who won WC.
What does it mean for you?
It is a great success. Wold Cup has eight races and if you want to win it overall, you have to be good in all races.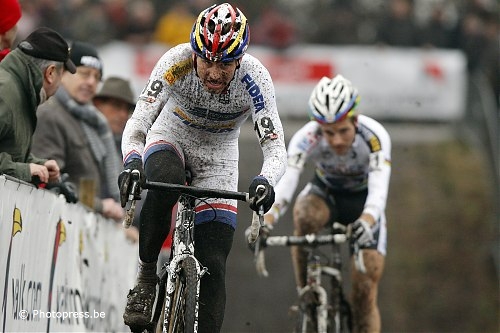 What about your feelings during the race?
It was very, very hard. There was a lot of pain, but I fought from start to the finnish.
Was pefrormance of Niels Albert surprise for you?
No. When he moved from the back to the head of the race, I knew, that I have to be with him. Niels was the best today, he deserved win. I mad severela mistakes and I must be happy with the second place.
Did you make some agreement with your teammate Kevin Pauwels for last metres?
I told to him, that I must be at least second. He knew it very well. I will buy him a bottle of Champagne. He made a great job for me.
What did you get for the win?
Nice trophy and mainly the white jersey for the winner of World Cup. I had one from last week, but I don't have no one. One jersey I gave to my father and second to my mechanic Gilbert. His father died on Friday and I wanted to make some pleasure for him.
Did you congratulate Niels Albert?
For sure. He was happy with the win after injury and I celebrated the biggest success of my career.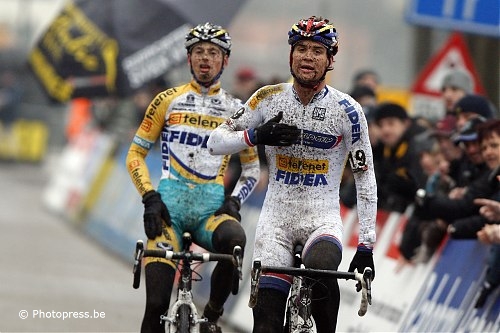 How do you feel before the world championship in Tabor?
Pretty good. I want to make the best result there, but I can be cool. I can say now, that my season was great. And Tabor can only improve it.
Resluts: 1. Niels Albert (Bel.) 1:02:37, 2. Zdenek Stybar (Cze), 3. Kevin Pauwels oba +7, 4. Klaas Vantornout +42, 5. Sven Nys +49, 6. Erwin Vervecken (all Bel.) +52, 7. Gerben De Knegt (Ned.) +55, 8. Jonathan Page (USA) +1:06, 9. Bart Aernouts (Bel.) +1:22, 10. Radomir Simunek (Cze) +1:29. Overall standings: 1. Zdenek Štybar 635, 2. Albert 631, 3. Nys 535, 4. Vantornout 517, 5. Pauwels 440, 6. De Knegt 428.By on 24/01/2010